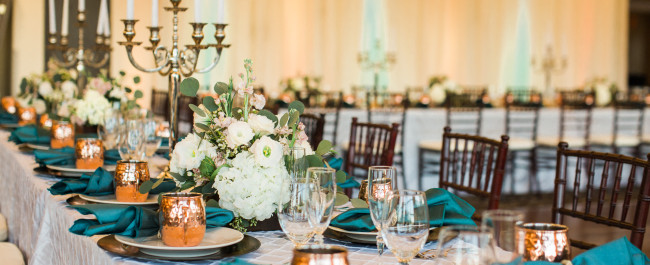 Los Robles Greens Ballroom
This was a styled shoot organized and designed by Stop and Stare Events to help showcase the Sunset Ballroom at Los Robles Greens  in Thousand Oaks.
We also partnered with several awesome local Ventura County vendors to pull together this look. The styled look mixed metals and textures, and it turned out amazing! Amigo Party Rentals has some great inventory, and it was also a chance to showcase some of their items for this shoot as well. For example, the Moscow Mule copper mugs became a key element in the design along with candelabras, faux wood chargers and matching floral boxes, along with the lightly textured white linens and florals. The peacock napkins and accent linens also brought in just enough color to make the look pop.
We love the Sunset Ballroom at The Los Robles Greens, especially the entire wall of windows! An enclosed ballroom can feel a bit confined, but the Windows at the Gardens lend a beautiful open atmosphere, with a gorgeous view of the Golf Course. With draping on the opposite wall, we incorporated some soft  Gold and Turquoise up-lighting and a custom monogram light behind that cake. In addition to being a DJ company, we love providing lighting and we really feel that Up-lighting and a custom monogram can made a huge difference in the feel of any wedding, especially in a ballroom.
Check out the photos below for some ballroom inspiration, and see the complete vendor list below!
Venue: The Los Robles Greens
Design and Coordination: Stop and Stare Events
Photography: Chealsea Elizabeth Photography
Rentals: Amigo Party Rentals
Lighting: DJ Sota Entertainment aka West Coast Wedding DJs
Draping: Sitting Pretty Elegant Linens
Cake: Sugar Lab Bake Shop